Five interesting incidents during local election 2073
113 YEARS OLD GRANDMA CAST HER BALLOT IN 2ND PHASE
LOCAL ELECTION AT BHUMIRAJ SCHOOL POOLING CENTER
AT SURANAYA RURAL
MUNICIPILITY IN BAITADI DISTRICT.
No.2 11 Sher Bahadur Deuba
THIS IS THE VOTING LIST OF ASIGRAM MABI
DADELDHURA. THERE WERE 11 VOTERS WITH
SAME NAME 'SHER BAHADU DEUBA'.
THIS IS THE SAME CENTER FROM WHERE PM
VOTED..HIS NAME IS THE ONE SHADED IN BLACK.
No.3 0 Votes in Whole Village
THIS INCIDENT TOOK PLACE IN TINGLA SOLUKHUMBU.
NO-ONE STOOD AS CANDIDATE IN THAT VILLAGE.
VILLAGERS REFUSED ELECTION AS THEY WERE
UNSATISFIED BECOZ OF THE CHANGE IN LOCAL LEVEL.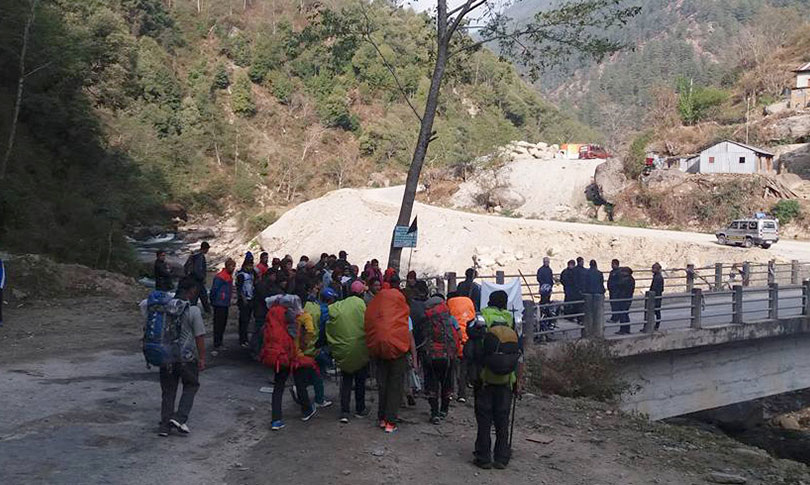 No.4 Brave 'Durgabahadur'
THIS WAS THE NEWS THAT WAS HIGHLY SHARED AND
DISCUSSED YESTERDAY AFTER DURGABAHADUR RANA
CATCHED AND THREW GRENADE THAT WAS ABOUT TO
EXPLODE WITHIN FEW SECONDS..
SOME STRANGERS THREW A GRENADE FROM FOREST
TOWARDS AMBAK POOLING CENTER OF TULSIPUR DANG ..
THE GRENADE DROPPED INTO THE GROUND AND INSTANTLY
RANA THREW THE BOMB OUTSIDE THE BOUNDRY.
RANA SAVED PROPLE FROM BIG DAMAGE
HOME MINISTER ANNOUNCED TO HONOUR RANA
WITH PRIZE ..OUR GRAND SALUTE TO RANA..
WATCH IT DIRECTLY ON VIDEO